A photo calendar is always a good gift idea this time of year.  Consider looking into Walgreens.  You can load all of your potential pictures into your account and design the calendar from there.  You can use a free internet program if you want to mash a few photos together.  At 40% off with same day local pickup, Walgreens is hard to beat.  And your recipient will enjoy your photos year round.
Wood cutting gets easier with the Remington Limb N' Trim 14″ Electric Chain Saw. It is a useful machine for cutting, trimming and felling trees or firewood at the job site or around the house. It features an easy adjustment screw to accurately tension the equipment in a matter of seconds. With an eight-amp motor and a lightweight design featuring just 9 lbs, it offers maximum horsepower and low kickback in a compact size. This 14″ chain saw also includes hand guards in the back and front for operator security, a trigger lock-out, a power cord, push-button oiler and a low-kickback bar. It shuns away the problems of air and noise pollution, and offers an environmentally-friendly solution. It can be lubricated manually with an easy-to-push button. The Remington chain saw comes fully assembled.
So much easier than the gas-powered cousins.  You just plug it in and it is ready.  The easy adjustment screw is so appreciated.  Good product.
Sometimes, you need a hatchet or a hand saw to take care of the smaller branches/pieces: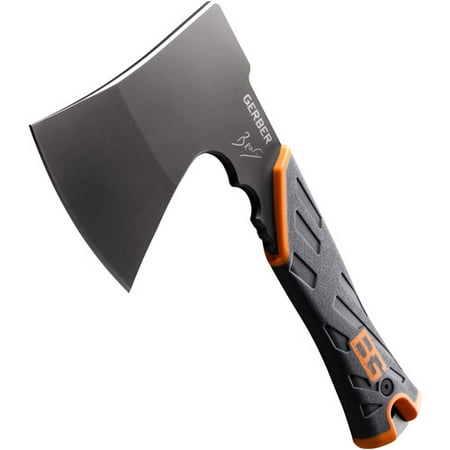 Make sure you are ready for winter:  fireplace supplies, firewood, snowblower, shovels, ice melt (before an impending storm.)
If you like shrimp at all (who doesn't), check out Popeyes popcorn shrimp.  It comes in a basket or as a o'boy.  Only $4.99 and so so good.  Use the opportunity to buy a gift card.  You can take care of a gift and guarantee a future date or two.  Now that's frugal!
Check into "Taco Tuesday" with some of your local Mexican Food Restaurants.  Many will have $0.99 or $1 tacos – and free chips.  Now that's frugal!
Any size large pizza at Pizza Hut – carryout – for only $10.  Now that's frugal!
Don't forget to check out thrift stores for reduced-price clothes and gifts.  Let someone else pay full price.  Now that's frugal!
Consider taking your vehicle to the dealer past those free oil changes.  Make sure you do not go past the recommended mileage or you could void a warranty.  Timely maintenance could avoid costly repair later.  Now that's frugal!
Did you know that O'Reilly Auto Parts can custom mix your car paint?  This will help you potentially save on a paint job with touch up paint.  Now that's frugal!
Looking for pantyhose at a reasonable price?  Consider Wal*Mart.  Great selection and great prices, and one near you.  Now that's frugal!
Gildan socks at Wal*Mart – reasonably priced and lasts well.  12 pair for $7.50.  Now that's frugal!
If you are having jaw/tooth discomfort, consider consulting your dentist to see if a sleep guard will take care of it.  For $20 at Walgreens or Wal*Mart, you may be able to eliminate this issue without large dental bills.  Now that's frugal!
If you are in the market for nice silk rugs for your home, check out AS Quality Rugs.  They have their own website as well as an Amazon storefront.  They have high quality rugs, in just about any size you need, at fantastic prices.  As a first time customer, they sometimes will send you a discount email for your next direct purchase.  Now that's frugal!
If you are looking for Tom's Shoes for a gift, Amazon has a large number of merchants that have a combined vast selection.  The prices do vary somewhat, and some of the more popular sizes are hard to find, but they are out there.  The prices and selection also change daily, especially this time of the year.  So do your research and save!  Now that's frugal!
If you are having trouble finding Brita water filtration supplies, they are always waiting for you on Amazon.  As soon as you put your last one on, Prime home another one!
For the person that has everything, get them an Amazon gift card for Christmas.  Millions of choices and instant delivery.  Now that's frugal!
Sunrolan through Amazon has a great selection and prices ($35) of high quality women's pumps.  It comes directly from China, so it takes bout 5 weeks.  As long as you factor the shipping time in, all will be great.  The shoes look and feel great.  Now that's frugal!
Big box store items are also waiting for you on Amazon.  Items such as socks, underwear, rubber boots, shoes.  With shoes, the only trick is getting the right size.  If you get a fulfilled by Amazon item, returns are much easier.  No gas used either.  Now that's frugal!