If you enjoy adding embroidery designs as accents to your sewing or to shirts, bags that you have purchased, the Brother PE500 Embroidery Machine will make you a happy seamstress.  It has a nice 4×4 embroidery area so you can work with slightly bigger designs, a touch screen that is very easy to use, an automatic needle threader so you don't have to struggle with this sometimes arduous task, easy bobbin preparation system so you can have plenty of colors ready, the ability to connect to a computer for machine updates and downloading designs, AND the reliability of a Brother machine!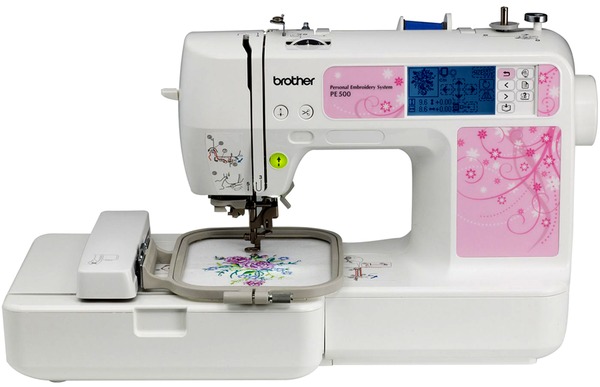 FRUGAL BONUS:
Amazon gift cards – great for any occasion!
Make sure to change the filter on your furnace before its busy season.  Test it before it gets cold to make sure it works.  A simple repair is much easier to take care of if it is not below freezing outside.  A small purchase at the hardware store might take care of it.
Keep buying those CFL bulbs.  Their prices have gone down considerably, they use less electricity, and they have guarantees to last so many years.  Make sure to research and keep all of the paperwork necessary.
As fall is in full swing, start looking for the harvest-colored items to decorate your house for fall and Thanksgiving.  Those cool-colored pumpkin jars for cookies and snacks sell out fast.
If you are looking for Fisher Price Loving Family toys at your local toy stores with minimal success, check out Amazon.  They have a great selection!  Once you are there, check out their other items which number in the tens of thousands.  It is a great place for BBQ accessories since it is in the middle of that type of activity.  Utensils, insulated gloves, racks, planks, aprons.  ANd of course, free shipping when you meet the minimum.
Don't forget those thrift stores for great clothing items.  Some have Sunday specials on certain color tags.  It is a great way to get gently used clothing.  If you have a thrifty-minded family, you can even get gifts for them this way.  Now that's frugal!
With winter right around the corner, make sure you have enough flashlights and lanterns.  Look at discount place like Wal*Mart, K Mart and Target.  The camping section will sometimes have strange colored items for dirt cheap.  Flashlights, floating lanterns, even some rechargeable ones!
Being stranded with a flat tire or dead battery is never fun.  It can be even worse in cold weather.  Make sure your cars have booster cables, tire gauge, tire inflator and fix-a-flat.
If you have a hand-held shower, it will probably wear out or break not that far down the road.  Most of its parts are sold separately.  Look at your local hardware store, local farm and home like Orscheln's, local lumber yards, discount stores.  Although there are versions that can cost almost $100 for the entire setup, you can normally find a good quality one that has 3-5 functions for less than $20.
Sometimes, parts on appliances break or wear out before the appliance is ready for the grave yard.  Take advantage of the internet and find that part.  Write down the make and model number of the appliance and then search for the part.  You should find several sources for the part.  You may even find a local parts distributor who has a comparable price.  Normally, they serve appliance repair shops, but they should be happy to help you also.  If it is the wrong part, generally, they will exchange the undamaged part.  Check out a youtube video if you need help with replacing the part itself.  This can easily save you hundreds of dollars over replacing the entire appliance!
If your dog has a slight bit of trouble breathing during allergy season, talk to your vet about some Vetadryl (similar to Benadryl, but for dogs).  It will also help them relax and sleep when there might be a little extra energy floating around.  Also, if this "puppy" likes chewing on non-chew toys, try some bitter apple spray.
If you need to cut down on your sodium intake, or increase your potassium intake (maybe to ward off irritating minor cramps), consider talking to your health care provider about a salt alternative.  These normally contain potassium chloride instead of sodium chloride.
Most of you have probably seen the commercials for Doritos Cantita chips and salsa.  Well, they are slightly pricey, but not more so than Baked Lays, Baked Doritos, etc.  The white corn actually tastes better, but breaks when the dip is scooped.  The darker yellow variety is much stronger.  The garlic salsa is simply wonderful.  It is as good as a good restaurant.  Definitely worth trying!  And much cheaper than going to a Mexican Restaurant!
For all you fans of the old school General Mills monster cereals (Count Chocula, Franken Berry, Boo Berry), hurry to Walgreens before the end of the month.  It is so much better than having to buy a case from Amazon!  Also, check their ads (with your rewards card, of course) for other cereal specials – $1.99, $1.75.  Just awesome deals!
Pizza Hut Dinner Box, only $10 for a medium pizza, breadsticks and cinnamon sticks.  Great deal – feeds 3-4!
Those super deli sandwiches from your local grocery store are such a good deal.  They should be anywhere from $6-$8, piled thick with 3 kinds of meat and 3 kinds of cheese on an 18 inch sub.  Check it out!